The company Tactial Haptics presents the final design of its haptic VR controller Reactive Grip VR for arcade facilities and VR training at the upcoming GDC 2019. By creating backpressure, the controllers set a realistic feedback for virtual touches, thus ensuring a higher immersion in the VR.
Tactical Haptics – Final design of the haptic VR controller "Reactive Grip VR" at the GDC 2019
The company Tactical Haptics has been developing its VR input devices since 2013. Since a failed Kickstarter campaign that same year, developers continue to tweak their product to provide an immersive input experience for VR experiences. Now the devs will be able to present their final design at the upcoming GDC 2019, targeting the target group of VR-Arcades as well as non-gaming partners such as VR training providers.
The VR controllers rely on third-party tracking and thanks to three integrated, magnetic metal rods provide a special counter-pressure feeling. Accordingly, the built-in rods move to the touch in the virtual environment and thereby provide a realistic feedback on touch. Instead of simulated touches by vibration motors, this creates a real back pressure, for example when opening a virtual door or lifting a sword.
How this works in practice is demonstrated in an early prototype: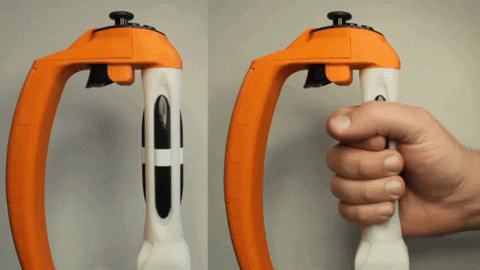 The controllers are designed to be configurable with additional add-ons, as required, using magnetic sockets, so they can be used on PC VR home systems as needed. As a result, the input devices can be customized to transform them, for example, with the Oculus Touch controllers to a two-handed rifle replacement. The change is almost spontaneously possible without appropriate preparation.
This is how the people in charge describe the modularity at Kickstarter:
"The production design is simpler and more modular, allowing the user to configure the controllers with or without magnetic sockets (to make new peripherals on the fly) and use the controllers in the PC VR ecosystem of their choice. Additional brackets allow this modularity. "
The final product design of the haptic controller Reactive Grip VR will be demonstrated at GDC 2019 from March 20 to 22, 2019.